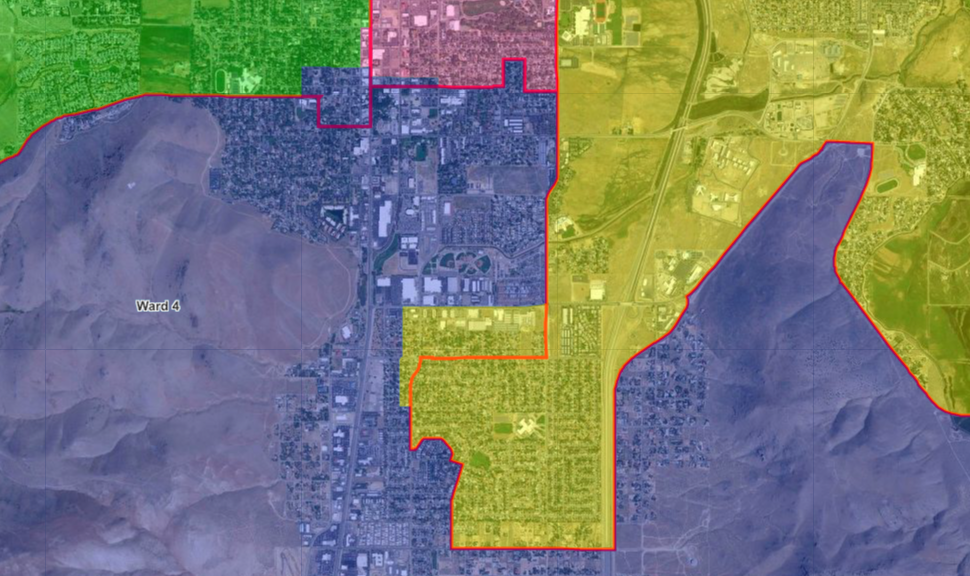 Carson City supervisors approve electoral map and annual financial report
The most significant change to the city's electoral map is a block of houses south of Fairview Drive from Ward 4 to Ward 3, marked in yellow.
Thursday, December 16, 2021
The 2020 US Census found Carson City had gained 3,365 residents over the past decade, bringing the total population to 58,639. On Thursday, the supervisory board altered the city's electoral district boundaries to accommodate to growth.
Map changes are minimal, adding multiple blocks to Ward 3 and Ward 4. The process of changing ward boundaries is known as redistribution, which balances the population in each ward.
Aubrey Rowlatt, Registrar-Recorder, led the city's redistribution and said each ward now has around 14,700 residents.
She received two public comments on the map, one commending the registrar's office for a job well done, and another from the Las Vegas Indian Center asking the city to protect Native American communities of interest. According to the map provided by LVIC, the indigenous population of Carson City is fully integrated into Ward 4.
Carson City votes en masse, which means all residents can vote for every candidate for the supervisory board, but the board must be made up of one candidate from each ward, plus the mayor.
Supervisors approved the proposed card without any changes and without discussion.
They will meet again on December 30 to hold a second reading, passing the card into law.
Sheri Russell, Chief Financial Officer, also made a presentation on some highlights of the city's comprehensive annual financial report. Fiscal year 2021 ended on June 30.
Notably, a significant proportion of the city's income, 15.8 percent, came from grants. This represents an increase of 10 points from 2020 and an increase of eight points from 2019.
General fund income was 33 percent higher than expenses. Among government activities, the top three expenditures included public security, public administration and public works.
Supervisors discussed their monetary goals for 2022. Mayor Lori Bagwell said she would like to use unallocated funds to start repairing roads in the neighborhood. Since 2017, the city has exclusively funded the repair of regional roads.
Supervisor Maurice White has expressed interest in funding stormwater repair and improvement. And supervisor Stacey Giomi added that in addition to spending unallocated funds, the city should continue to save money for uncertain times.
Among other items on the agenda, the supervisors:
• Approval of an affordable housing project on Butti Way and allocation of land for development, with a second reading of the contract.
• Changed the Carson City municipal code to match the city charter, requiring that new electoral maps be passed into law, rather than enshrined in city policy.
• Appointed Gregory Novak and reappointed Charles Macquarie to the Regional Transport Commission.
Their December 30 meeting to adopt the amended electoral map will begin at 9:00 am in the Robert "Bob" Crowell Council Chamber of the Community Center at 851 E. William St. The full agenda with additional details has yet to be completed. been published.