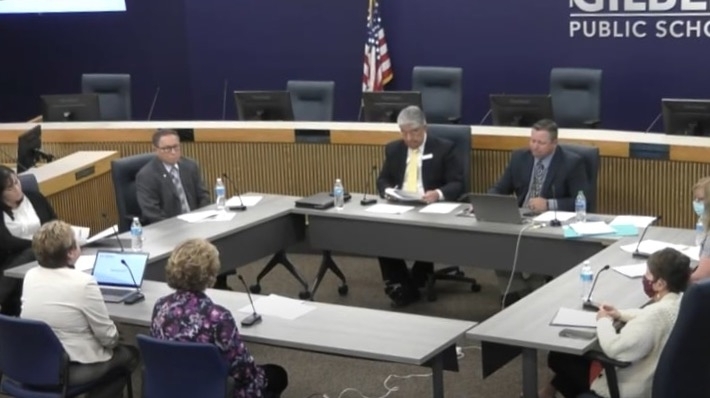 The governing board approves the annual financial report of Gilbert public schools
The Gilbert Public Schools Board of Directors is reviewing the annual financial report prior to its approval at the board meeting on October 12. (Screenshot from YouTube)
The Gilbert Public Schools Board of Trustees unanimously approved the district's annual financial report for the 2020-2021 fiscal year on October 12.
The report is required by state law and is intended to disclose budget performance to the public, according to the state's General Accounting Office. It includes general fund financial statements, a comparison of actual appropriations to expenditure, and statements of income, expenditure and changes in fund balances.
According to the report, GPS spent $ 222.58 million in maintenance and operations funds, $ 17.21 million in classroom funds and $ 9.37 million in unrestricted capital spending. The district closing fund balance for maintenance and operations was $ 62.38 million, compared to $ 52.34 million at the start of the fiscal year; Class site fund at $ 7.46 million, up from $ 7.34 million; and an unrestricted down payment of $ 1.46 million, compared to $ 1.57 million.
Other elements:
The Executive Director of GPS Technology, Jon Castelhano, presented the Board of Directors with a study session on robotics in the classroom. Castelhano showed success videos of how robotics was used to engage students.
Board member Jill Humpherys was named the district representative at the Arizona School Board Association county meeting on October 16.
The board asked a lawyer to look at two items related to a safety net and a safety net for the desert Ridge High School baseball field, where Blandford Homes built an adjacent subdivision that receives balls. false. One item was for a cost-sharing arrangement for the additional fence, estimated to be up to $ 315,000. The other was for the tender on the project.